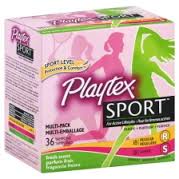 Hurry over and print this nice high value coupon for $3/1 Platex Gentle Glide or Sport tampons, 32 count or larger.
This coupon should get you a nice deal just about anywhere, but there's a particularly good deal coming up at CVS. Starting 8/24, buy any Playtex tampons and get $3 ECB. I'm not sure how much the larger boxes are, but that's $6 off. Plus, you can get an even better deal if you get some CVS coupons from the red coupon machine!
Remember, you can usually get two prints from each coupon. To get a second print, just come back to this page and click on the coupons you want again. It'll save you some time and frustration searching, and each one will open in a new tab. 
Resources You Might Like:
Coupons.com