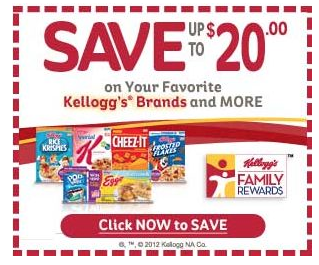 Wow! Right now you can add 825 points to your Kellogg's Family Rewards account! This is the most we've ever seen and it's available for EVERYONE not just new members! Just follow these steps to earn your points:
Enter coupon code SPOOKYBONUS4U800 for 800 points
Log out of your account and then back in
Enter coupon code SCARYGOODSAVINGS for an extra 25 points
Just so you know, some are saying that you won't see the 800 points until after you enter the second code. So if you don't see them added to your account, don't worry until after you've completed the steps above. The code is set to expires on November 1st but it wouldn't surprise me if they pulled the code early.
If you haven't already done so, you'll want to sign up for Kellogg's Family Rewards Program. By signing up for this program you can enter codes from your purchase of Kellogg's products and earn coupons, prizes & sweepstakes entries!