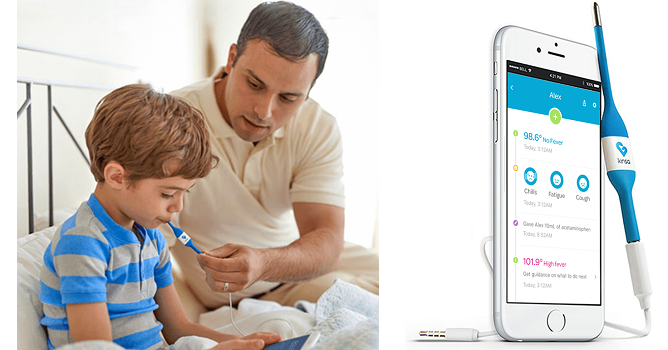 The KINSA Smart Thermometer is only $14.99 with FREE shipping right now! That's $5 off the regular price of $19.99 and a rare discount on this. This doesn't go on sale often, and last time it did, it didn't last long!
This is definitely an AWESOME thermometer, and I highly recommend it to any and all parents! Or, pretty much any household! I have one myself and I won't even think of using any other thermometer.
It has great reviews and so many awesome features…
The Kinsa Smart Thermometer doesn't run on batteries. It's actually powered by your smartphone, and you just plug it into your phone and use the free app for readings. It helps make sure you get an accurate reading, tells you if you need to adjust the placement, and even has a bubble popping game for your kids to play to keep them occupied while you're getting their temperature. It even keeps track of past temperatures & symptoms so you don't have to. It even offers real-time guidance on the next steps to take, and tells you what's going around!