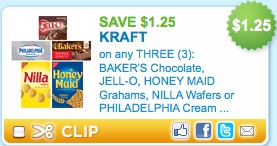 There is a HOT new Kraft printable coupon to help you sale $1.25 off three BAKER'S Chocolate, JELL-O, HONEY MAID Grahams, NILLA Wafers or PHILADELPHIA Cream Cheese.
You can just pick up three Jell-O's and get them really cheap. They often go on sale for 50 cents each and after this printable coupon you pay just 25 cents for three. I also seem to recall that the regular price is around 60 or so cents at Walmart. But don't hold me to it, I usually buy them at Walgreens when they are on sale for 50 cents or less.
UPDATE: These will be 59 cents each at Walgreens starting on 11/6.  Use this coupon to pay 17¢ each after coupon.