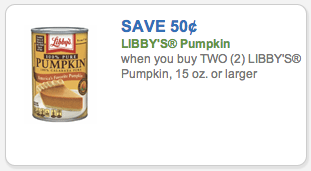 Wow!! Here's a hot new Pumpkin coupon that just popped up!  Get a $0.50/2 Libby's Pumpkin 15oz or larger printable coupon.  If you don't see it right away try switching your zip code to 93907. 
This will not last long so grab it now!
Where's my coupon? If at first you don't see your zip code specific coupon follow these steps to get it:
(1) Click HERE and in the upper right hand corner there will be a SIGN IN link
(2) Log into your account with email and password
(3) Once you're logged into your account, click on "Your Profile"
(4) Change your zip code to desired zip and click on submit changes (leave the rest blank)
(5) Then come back to the coupon link provided to see your coupon
Don't forget about this awesome Microwave Mug Pumpkin Spice Cake With Sugar Maple Glaze Recipe I shared with you earlier.