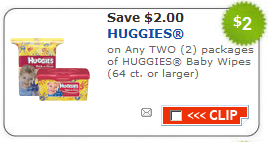 Huggies has just decided to shower us with coupons today and I love it! Head on over to Coupons.com to find a couple of high value coupons for Huggies wipes:
$2/2 Huggies baby wipes 64ct or larger
$2 one Huggies baby wipes 64ct and one refill $184ct
Unfortunately you will only be able to print one copy of each coupon 🙁  They both expire 14 days after you print them.
Enjoy!