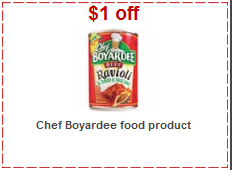 Target is ON FIRE this morning and it has just added quite a bit new coupons and some of them are SMOKING HOT!  The hottest one I see is this one for $1/1 Chef Boyardee product.  If you buy these products, print that puppy up fast as it is sure to mean very very cheap cans of this product.
A lot of the coupons that just got added are for "back to school" snacks/foods type of products.  I am sure a lot of those products will be on sale before the coupons expire.  I printed some of them and the coupons I printed don't expire until the end of August.  So plenty of time to wait for a sale to use them.  Here are some of the new Target coupons, click here to print them:
$1/1 Simply Juice refrigerated juice (very excited about this one is our fav OJ)
$0.50/1 Kraft Mac and Cheese cups (on sale this week)
$1/1 Nature Valley granola bars (another high value coupon, combine with this 0.75/2 printable )
$1/1 Kids cuisine meals (I think these go for around $1.75 each)
$1/1 Hunt's pudding snack packs (another high value, sure to make them really cheap)
$1/1 Del Monte Fruit Cups 6ct
Oh wow! tons of awesome coupons.  I think I am going to have to pay a quick visit to Target to check out the deals with these coupons because I know there will be a lot.  if you check on some of these make sure to come back and share the deals you found.