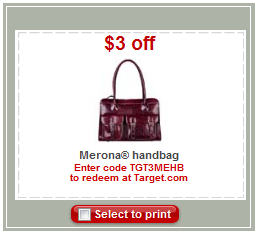 Awesome news!  The Target coupons good on apparel items are back again available.  If you remember from last time these coupons didn't last very long so you want to print them soon if you want them.  Here are the coupons available:
$5/1 C9 Apparel item
$1/1 Hanes item
$2/1 Women's plus apparel item
$3/1 Merona handbag
$3/1 Merona's men top
$2/1 Merona's women's top
They all expire on 7/31/10.  These coupons don't exclude clearance items so start there when you are looking for deals with these. Don't forget to come back to let me know what deal you were able to get. Last time a lot of you were able to get really cheap Merona bags and tops.