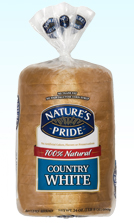 Here's a hot printable coupon that's currently available on Coupons.com:  Save $0.75 off one loaf of Nature's Pride Bread.  Why is this coupon hot?
If you have a Giant Eagle you can get a loaf for free this week as it is on sale for $1.50 each anf Giant Eagle will double this coupon and get you FREE bread.  Thanks Cherry Picker.
If you have a Hy-Vee, you can get a loaf of bread for $0.24.  As the store has it on sale for 99 cents.  Thanks Kansas City Mamas
It's a pretty high value bread coupon.  So you may want to check your store ad and see if it's on sale and even if it's not printed just in case it goes on sale soon and it's no longer available.
Do you know of any other stores having a good sale on this bread?  Share in the comments section.