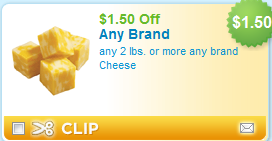 Wow! look at this very rare coupon that just showed up on Coupons.com: Save $1.50 off any 2lbs or more ANY brand of cheese. I love these generic coupons that can be used on any brand. You can even use it on those cheeses you never see any coupons for.
Update: this coupon can be used only in. MN – ND – SD – IA – IL – KS- AR – OK- MO. Thanks Karen.
Thanks Kansas City Mamas!