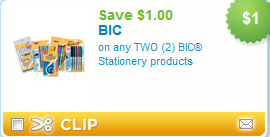 I know those BIC coupons just keep coming and going very fast.  So I want to give you a quick heads up that I just spotted a coupon for$1 off two BIC stationary products on Coupons.com.  Make sure to print this one quick before the print limit is reached.  Since this is a coupon with a more generic wording, you can use it for the pens, wite-out or markers .
FREE Highliters at Walgreens this week!!  Heather from NWAdeals just tweeted me that you can use the $1/2 Bic coupon to get the BIC highlighters that are on sale this week for 49 cents for the five pack FREE!!
Also, there are some hot coupons in the Simple and Delicious website for:
$1 off one Chef Boyardee® 15-oz can
$.50 off any ONE (1) Peter Pan® Peanut Butter
$.50 off any two Crunch 'n Munch®
$1 off any 4 Snack Pack® 4-packs
If you are not a member of the Simple and Delicious website you will need to become one to be able to print these coupons.