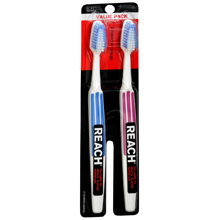 This week there is a HOT deal on Reach toothbrushes at Walgreens. There is a weekly register rewards offer: Buy two Reach toothbrushes 2/$5 and get back one $3 Register rewards. But there is also another unadvertised register rewards deal on reach toothbrushes:
Buy two Reach toothbrushes, Get a $1 RR back
Buy 3, Get $2 RR back
Buy 4+, Get a $4 RR back
This extra register rewards is advertised on the Coupon Network. This double dipping deal WORKS BEST with the 2 pack Advanced Design:
Buy four 2 pack Advanced Design 2/$5
Use four $2/1 Multipack Reach Toothbrushes 5/8/2011 SS Insert (exp 8/8/2011)
Pay $2 plus tax out of pocket and get back one $3 RR PLUS a second $4 RR from the unadvertised deal.
Not a bad deal and hopefully some of you have enough coupons to do the deal once. if you only have two coupons, then you still have a $3 moneymaker in your hands.