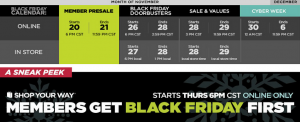 If you aren't a Shop Your Way Rewards member yet, you might want to sign up ASAP! Sears is holding a pre-Black Friday sale today starting at 6:00 PM CST, but it's for Shop Your Way members ONLY.
Here are the sale times:
7:00 PM EST
6:00 PM CST
5:00 PM MST
4:00 PM PST
Take a look at some of the online only member presale deals! And, you might be able to use some of these promo codes to save even more:
$35 off orders of $300 or more with code SEARS35OFF300
$20 off Fitness orders of $250 or more with code FITNESS
$15 off qualifying Tool orders of $75 or more with code SAVE15
$5 off orders of $50 or more with code SEARS5OFF50
$5 off m orders of $50 or more with code SEARS2014
$50 off Appliances orders of $300 with code SEARS50
$10 off orders of $75 with code 10OFF75
Getting excited for Black Friday? Make sure you take a peek at all of the Black Friday ad scans available on the site! If you want to get a jump on your holiday shopping, you can also check out some of our gift ideas and holiday deals.