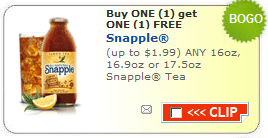 There is a HOT Snapple Coupon available: Buy any 16.9oz bottle and get one free. If you like Snapple products print this little puppy now to get your fav drink for less or possibly combine with a buy one get one sale and get two FREE. Sort by beverage to find this coupon faster. I am thinking this one may not last too long.
Uou can print a second set of this coupon when you "Like" Snapple on Facebook.
Thanks Rose Knows Coupons!