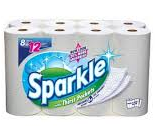 Who needs to stock up on paper towels? I do! I do!
Starting 8/3/14, CVS will have a nice stockup deal on paper towels and toilet paper! You'll get $5 ECB when you spend $20 on the following household products:
All Liquid, 28-33 Loads or Mighty Pacs, 24ct – $3.50
Quilted Northern Ultra Plush Bath Tissue, 9pk
Angel Soft, 12pk – $5.00
Sparkle Paper Towels, 8pk – $5.00
The best deal here would be to stock up on Sparkle paper towels, which we have a $1/1 coupon for! I've also updated the CVS Weekly Deal Calculator spreadsheet with this deal.
Buy (4) Sparkle Paper Towels, 8 pk @ $5 each ($20) 
– Use (1) $1/1 Sparkle paper towels, 6 roll or larger
– Pay $16 out of pocket (Or less if you have ECB's!)
– Get $5 ECB
Final Price: $11 for 4 8 ct packs of paper towels! ($2.75 per pack or 34¢ per roll!)
If you don't want to get just paper towels or can't get enough prints, you can also print coupons for $1/2 packages of Quilted Northern® bath tissue, 6 double roll or larger as well as $1/2 packages of Angel Soft® bathroom tissue.
Going shopping? Check out all of the recent coupon deals we've found!
Resources You Might Like:
Coupons.com