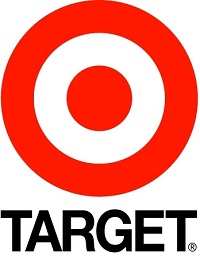 Holy Smokes!  Target is offering a coupon for $10 off your purchase of $40 or more select grocery items. Just text the word GROCERY to 827438. This coupon expires 8/3. It seems like it will also be available in the weekly sales ad that comes in the Sunday newspaper. Plus a lot of these products will be on sale next week.  Here are the item eligible for this promotion:
– Hellmann's or Best Foods mayonnaise
– MiO or Crystal light water enhancer
– 4-pk. 9.5-oz. Starbucks Frappuccino
– Market Pantry® pasta or sauce
– Archer Farms® trail mix or nuts
– Red Baron or Freschetta pizza
– 10- to 12-oz. Starbucks coffee
– 59-oz. Simply Ades or Juices
– Kashi trail mix granola bars
– Oscar Mayer lunch meat
– GoGo SqueeZ fruit pouch
– 12-pk. Lipton iced tea
– Skippy peanut butter
– Value-size candy bag
– 20.5- to 26.8-oz. Kellogg's or General Mills cereal
– 24-pk. 16.9-oz. Deer Park, Zephyrhills, Arrowhead, Ozarka, Ice Mountain or Poland Springs brand water
– 12-pk. 12-oz. A&W, Canada Dry, Diet Rite, Dr Pepper, RC cola, Schweppes, Sundrop, Sunkist, Hawaiian Punch, 7-Up, Squirt, Cactus Cooler, Country Time, Vernors, Tahitian Punch, or Welch's brand soda
Thanks Totally Target!