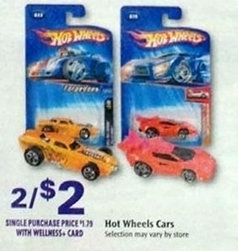 Heads up!  If you haven't printed the Hot Wheels Coupons I told you about a couple weeks back make sure you grab them for a great deal at Rite Aid starting 3/17.  Just in time to fill those Easter Baskets!  Here's what you can still grab:
Save them for the following Rite Aid Scenario Starting 3/17:
Hot Wheels Cars – 2/$2
Buy 10, Use $2.00 off when you buy $10.00 in Hot Wheels items
Pay $8 or just $0.80 per car!
Check out the other Rite Aid deals here.