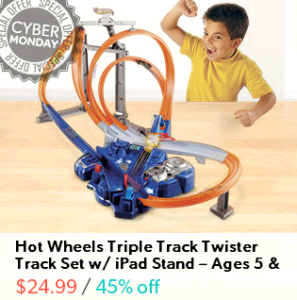 Grab this Hot Wheels Triple Track Twister Track Set with iPod stand for only $24.99 today on 1 Sale A Day
! It normally sells for around $45, and it's currently going for $30.88 on Walmart.com and $36.99 on Amazon.com. You'll also get free shipping from 1 Sale a Day as usual!
Here are some product features from the website:
Totally Twisted Hot Wheels Fun – It's fast-paced frenzy and multi-track madness like you've never seen before! This exciting Hot Wheels set triples the action with three tracks that loop (one even twists!) and merge into one ultra-daring crash zone. The set provides endless racing and stunting play, plus an opportunity to digitally bring the track to life!

Rev Up the Insane Action – The set includes one die-cast vehicle, but boys can launch additional vehicles (sold separately) for more and more mayhem! Use the dual motorized boosters to keep racing through the three loops, which vary in height and shape — and are built for speed and gravity-defying moves! The excitement builds to a frenzy as vehicles whip around the course. Which car will make it through? Which will smash in crushing defeat?

Puts Boys in the Driver's Seat – Two different levers let kids control the risk and nonstop action. Hit the red diverter to send your vehicle speeding on a definite collision course — for high-octane crashing chaos! Or give your vehicle a chance by blasting through the blue course with turns and trapdoors. Cars will race back around to start the stunting thrills all over again!

Enhanced Play With Cutting-Edge Technology – The set comes with an attachable iPad stand and new glyph technology, which lets boys use their iPad (not included) to race through five virtual worlds — Team Hot Wheels®, Shark Park, Farm, Dinosaur, and Robot Battle. Just download the free Hot Wheels Powerport app and attach your iPad to the set. The app interacts with the track to make both worlds collide in vivid virtual reality! Kids can even record and play back video of their car in action! 

Features three tracks that create loops of varying heights and merge into one ultimate crash zone

Tracks are built for speed and gravity-defying stunts

Two motorized boosters keep the action on track

Comes with one die-cast Hot Wheels vehicle

Kids control the stunting, smashing action with two diverters

Includes an iPad stand, so kids can use their iPad (not included) to race through five virtual worlds

Age Grade: 5 & Up

Requires 4 D batteries (not included)
Stick around for more Cyber Monday deals and our next toy giveaway!