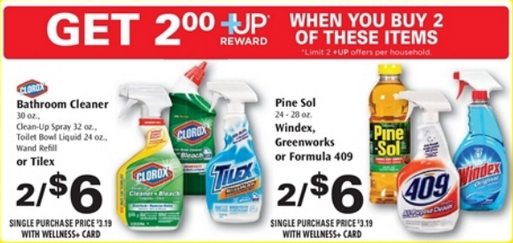 This week at Rite Aid, there's a nice deal on cleaning products. Buy two cleaning products for $6 and get a $2 +UP. There's a limit of two deals per household, so you should be able to stock up on some of your favorite cleaners.
Here are the cleaners included in this sale.
Clorox Bathroom Cleaners
Clorox Clean-Up Spray
Clorox Toilet Bowl Cleaner
Tilex
Fortunately for us, we also have some nice manufacturer coupons available right now too!

Buy (2) Clorox Clean-Up Sprays @ 2/$6 
– Use (2) $.75/1 Clorox Clean-Up spray
– Pay $4.50 out of pocket
– Get $2 +UP Reward
Final Cost: $2.50 wyb 2 ($1.25 each)
Pine-Sol, Windex, Greenworks and Formula 409 are also 2/$6 and you can get $2 +UP when you buy two. Click here to preclip all coupons for these deals. You can unclip any you don't want before printing.
Going shopping? Check out all of the recent coupon deals we've found!
Resources You Might Like:
Coupons.com