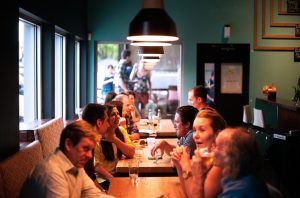 Are you tired of not going out to eat because you are saving money?  I mean, going out to eat really isn't a necessity and you can save so much money by not doing it, but sometimes it is nice to not cook.  I know I am not the only one who thinks like this!
Here are some of my favorite tips for how to dine out for less.
Check for coupons.  Many restaurants offer coupons, you just have to know where to look.  Here are a couple of places I have found coupons for restaurants in the past.

Newspapers.  Gasp. Yep, newspapers still exist and you can often find coupons in your local paper for local restaurants.  I find find food coupons in mine all the time.

The back of your grocery receipts.  Have you ever looked at the back of your grocery receipt.  I have a Safeway store that I shop at often and there is almost always coupons on the back for local restaurants and fast food places.

Google.  Seriously, a simple Google search will bring up lots of restaurant coupons, don't forget to check.

Groupon.  Groupon is an awesome place for restaurant deals and lately they have been offering lots of cash back restaurant deals.

Sign up for loyalty programs.  I have a couple of restaurants that I am signed up for their loyalty program.  Red Robin for example, often offers coupons via their program, you will also get free meals on your birthday, etc.

Text offers.  Many restaurants such as Papa Murphy's pizza offers text deals.  Several times per week I get a text offer for 25%-50% off of any menu pizza.  This comes in handy on pizza nights.

Take advantage of happy hour.  Happy hour is awesome for saving money!  You can often find super cheap drinks, or half price appetizers, etc.
What ways have you found to save money on going out to eat?