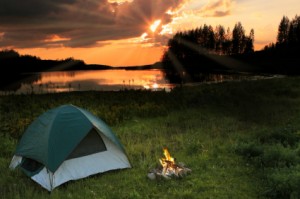 Yesterday, I gave you a few tips on how to plan and pack camping food. Today, I thought I'd give you a few pointers on how to choose and save money on camping gear.
One of the reasons that camping is high on most lists of fun and frugal summer activities is that it really doesn't require much special expensive equipment. Even if you'v never been camping before and have no camping gear, you don't have to spend an arm and a leg to get started.
Here are a few tips for how to save money on camping gear!
Borrow Camping Gear
If you don't have any camping gear, your family members or friends might. Ask around to see if anyone you know has any of the camping gear you need and borrow it for a night or two. If you find that you like camping and plan to go more often, you can buy camping gear of your own later. Just make sure you return the borrowed camping gear in good condition!
Keep It Simple
You don't have to have all of the bells and whistles for a simple camping trip. Generally, all you need is a tent, some sleeping bags or blankets, and flashlights. They don't have to be the latest and greatest technology in camping gear either. Sticking to the basis when buying camping gear can really help you save a bundle!
Use What You Have
If you're really on a budget, you can save money on camping gear by using what you already have. Chances are, you probably already have some of the camping gear you need in your home already. Large tarps, for instance, can be used instead of a tent in most cases. Just tie a rope between two trees and toss the tarp over it. Need sleeping bags? Use blankets. Don't have a lantern? Flashlights work just fine. Use what you have already for camping gear, and you won't have to head out and spend an arm and a leg.
Invest in Quality
Sometimes it's a good idea to spend a little more on certain items for better quality. When buying camping gear, it's sometimes best to spend a little extra on certain items that'll last for years. Cheap tents, for instance, will usually only last one or two camping seasons before you have to replace them. Spend a little more and invest in a tent that will last you several year. The same is true for coolers. But, just because you're investing in quality gear doesn't necessarily mean that you have to spend an arm and a leg…
Shop Sales
Keep your eye out for sales if you need new camping gear! We'll usually see some sales on camping gear at the beginning of summer, but to get the best deals on camping gear, you'll want to shop in the fall. Prices on summer gear and outdoor items will usually be slashed in an effort to move the merchandise and make way for winter and holiday items. You can often get amazing deals on clearance camping gear for next year! If you find it early enough in the fall, you might even be able to get a few more nights of camping in before the weather gets too cold.
Look for Used Camping Gear
During the summer, be sure to keep your eye out for used camping gear at garage sales, yard sales, thrift stores, and classified ads. You might be able to find gently used camping gear at a fraction of the price of retail.
Share Camping Gear
Finally, you might want to consider sharing the cost of camping gear with another family. Split the cost of the most expensive gear, and work out a schedule for who gets to use the gear when. For instance, each family can use the camping gear on alternating weeks.