While searching around for a mother's ring today, I stumbled on a pretty awesome Sears sale!
The jewelry is already marked way down (up to 70% off fine jewelry), and another 10% is automatically taken off fine jewelry sold by Sears, and another 25% is automatically taken off Personally Yours custom jewelry sold by Sears. On top of that, you can also use the promo code JEWELRY10 to take an additional 10% off your order subtotal.
That's a lot of discounts… Here's an example: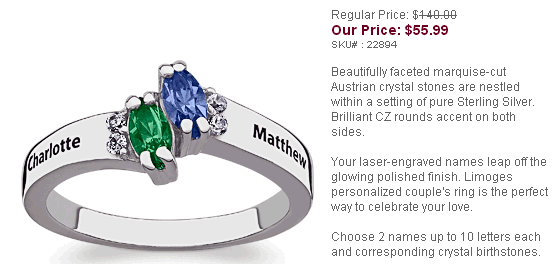 Overall, I'd say not a bad deal. This could be a great day to get a great deal on couple's rings or mother's rings right now and have it in time for Valentine's Day. You'd better order soon, though, because I'm not sure when these deals end!