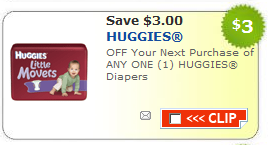 If you were looking for Huggies printable coupons , today is your lucky day!  Here are the latest you have available to print and save on diapers:
$3/1 Huggies Snug and Fit diapers
$3/1 Huggies Little Movers or Little Snugglers diapers
$1.50/1 Huggies Little Swimmer
You can print each one of these printable coupons twice for a total of $15 in coupon savings!  If that was not enough, check out the following sales and deals available on these products:  At CVS, you can pay as little as $1.49 for one pack of Huggies diapers.  At Target and Walgreens you can combine a store coupon with the Little Swimmers coupon to save as much as $3.50 per pack.  Rite Aid will have Huggies diapers for $4.99 after coupon and single check rebate.
Print those coupons now before they are gone!