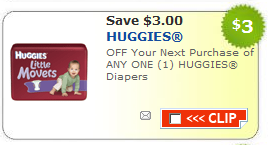 Hot Huggies printable coupons available right now.  Print these hot diaper coupons from three different sources (you can print twice from each source):
Time to save a LOT of money on your baby needs with these coupons and stock up!  Here are three places where you can save money by using these coupons:
Target right now:
Huggies jumbo pack of diapers $8.99
Use $3/1 diaper printable coupon (look under household)
Use $1.50/1 diaper Target store printable coupon (look under baby)
Pay $4.49 each after coupons
Walgreens starting on 3/21 and through 3/27
Buy 3 Huggies at $8.99 = $26.97
Get $5 RR wyb 3
Use (3) $3/1 AnyDiaper Printable Coupon PLUS
Use $1/1 Coupon Walgreens Childrens Activity Book (will deduct $3)
Pay $14.97 out of pocket and get back $5 RR (Thanks Clipping with Carie!)
Rite Aid starting on 3/21 and through 3/27
Buy 2 Huggies diaper packs $17.98
Buy 2 Huggies Wipes $5
Total = $22.98
Use $5/$20 Rite Aid
Use two $3 diaper printable coupons
Use $2 Huggies RA video values
Use two $0.75/1 Wipes coupon or $0.50/1 wipes coupon from 3/21 SS insert
Pay $8.48 our of pocket and get $1 Single check rebate for the diapers and $1/2 for the Wipes Single check rebate (Thanks Link to Family Savings!)
These are all great offers to help you save money on your diapering needs.  Hopefully you have one of these stores near you.