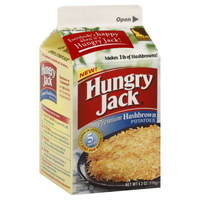 I couldn't make real hashbrowns if my life depended on it, which is one of the reasons that I love these little things. They're so easy to make and quite yummy!
There's a new $0.50/1 Hungry Jack Hashbrown Potatoes available right now, and these are also priced at $1.19 at ShopRite right now.
Buy (1) Hungry Jack Hashbrown Potatoes @ $1.19
These potatoes often go on sale for $1 or just a little over, so this would definitely be a coupon to keep in your binder!