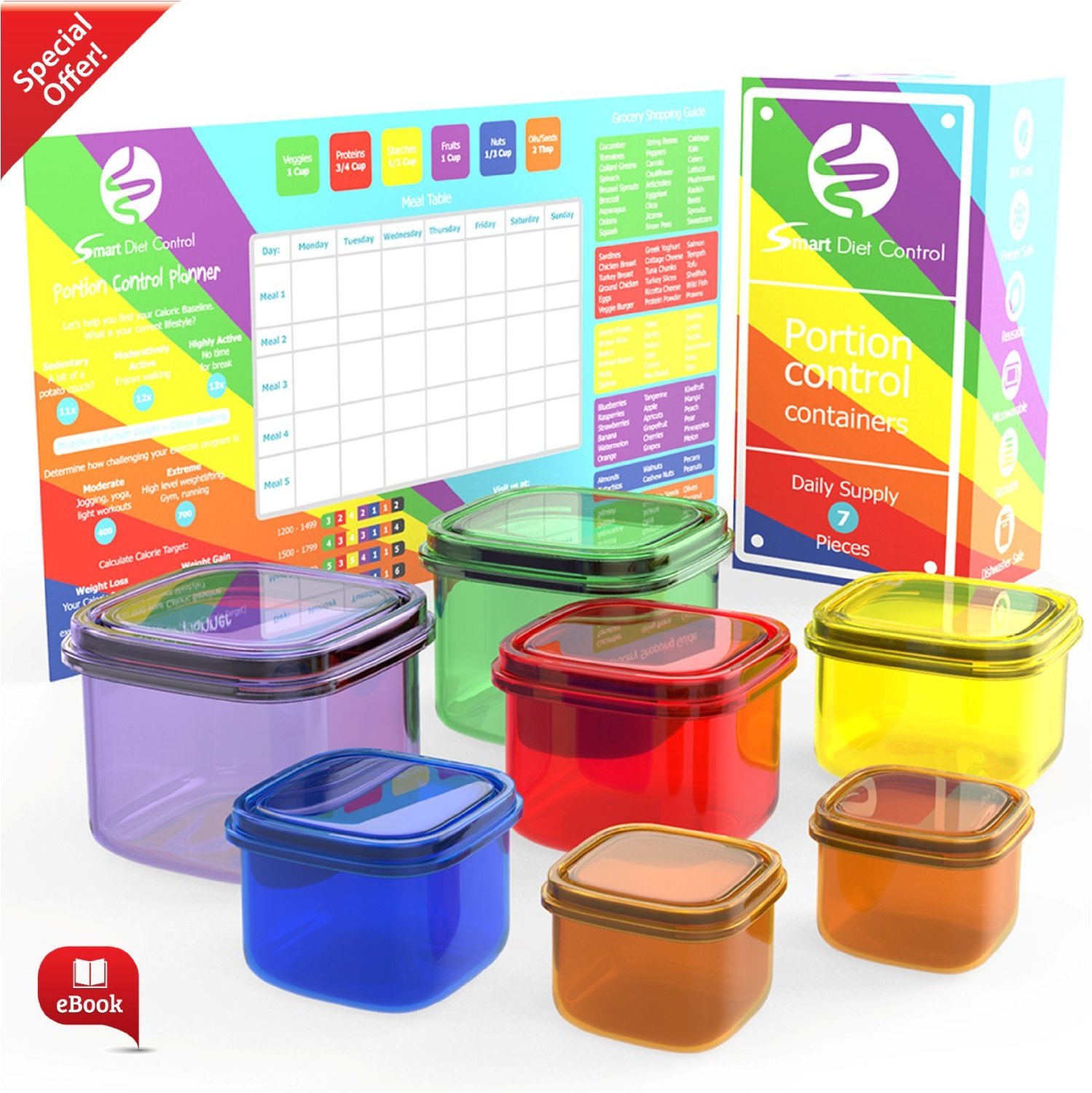 Run! Right now Amazon has the 21 day Meal Planner with leak proof, microwave and dishwasher save containers for just $8.75! These are great if you're looking to purchase more sets and ever things prepped before hand. Or if you'd like to give this plan a try for yourself now is the time!
Here's some more information if you haven't hear about the 21 day fix:
✔ BONUS RECIPE eBOOK, A MOTIVATING 21 DAY MEAL PLANNER CHART & USER GUIDE – The Smart Diet 21 Day Meal Planner Chart contains a calorie calculator, meal table, measurement tracker, grocery shopping guide and mouth watering recipes to help you organize what to have on your menu for the day! The free user guide leaflet comes with the box to give clear instructions to help you use your 7 piece portion control containers to the best effect.

✔ DIET SELECTION COULDN'T GET ANY EASIER – The portion control containers are color coded: Green = Veggies 1 cup, Red = Proteins 3/4, Yellow = Starches 1/2 cup, Purple = Fruits 1 cup, Blue = Nuts 1/4 cup, Orange = Oils and seeds 2 oz. This color coded containers program will be used to help you achieve your weight loss goals by taking control of your daily intake. Comparable to 21 Day Fix.

✔ KEEP DISCIPLINED WITH SMART PORTION CONTROL – There is no going over your limit! What you put is what you'll eat! These containers are precisely measured for serving proper portions so you don't have to worry about counting calories or weighing your food.

✔ HIGH QUALITY BUILT TO LAST A LIFE TIME – Tight lids and strong containers to let you carry them anywhere without any spillage! Top-rack dishwasher safe, stackable, 100% Food Safe, freezer safe, reusable and microwavable. BPA-free Plastic and DEHP-free.

✔ 100% SATISFACTION GUARANTEED OR YOUR MONEY BACK – We stand behind our products at Smart Diet Control. You must be 100% satisfied with any item that you ever order from us. If not just simply return your purchase back to us. We are not satisfied until you are!
Plus, remember if you have Amazon Prime your order will ship free. Or, if your order is $49 or more, it will ship free too! You can sign up to get Amazon Prime here (It's a FREE 30 day trial), or by signing up for the Amazon Student Program.