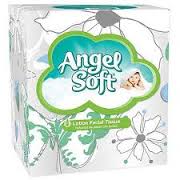 After this nasty cold I'm battling, I'll definitely need to restock my supply of tissues! So, I'm pretty grateful for this Walmart deal on Angel Soft Facial tissues.
Angel Soft facial tissues can be found at most Walmart stores for just $.97. There's also a coupon available for $.50/1 Angel Soft facial tissue, making your final price just $.47 per box.
However, this coupon is scheduled to disappear by tomorrow, so you'll want to print it ASAP!
Going shopping? Check out all of the recent coupon deals we've found!
Resources You Might Like:
Coupons.com