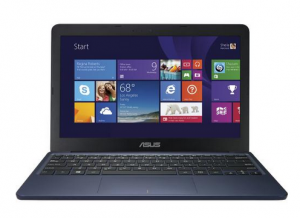 If you've been waiting for the lowest price on a laptop this week, you're going to want to jump on this deal!
Best Buy is currently offering the Asus 11.6″ laptop for only $99.99! This comes with 2 GB RAM and 32 GB flash memory. This particular laptop also has some nice reviews as well. At this price, I highly doubt it will last long, so you'll want to grab it ASAP.
**If the specs seem kind of low on this, that's because it's more like a netbook than a full-size laptop. I wouldn't recommend it for resource heavy tasks like heavy gaming, but these are usually good for everyday tasks like surfing the web and doing homework.
I actually have a little laptop similar to this, and I love it! I call it my tic-tac, and it's super portable and good enough to stand up to most of what I need it for. Half of the time, I'm posting on here with my little laptop. It can lag a bit when I have too many programs open or when I'm trying to do too much, but it bounces right back when I shut a couple things down. Would I buy another one, though? Absolutely!
We'll be posting all of the great Cyber Monday deals we find in the Cyber Monday 2014 category.