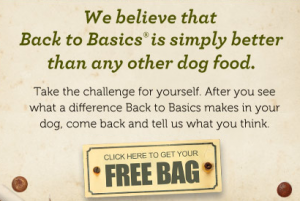 UPDATE: Looks like all bags have been giving away, now a $5 off coupon is available.
You can claim a free 4lb bag of Back to Basic dog food on Facebook right now. Just like the brand on Facebook. Then click to enter the "Instinctively Better Challenge". Enter your info and after you submit you will get a coupon code to redeem a Petfooddirect.com. This code comes via regular mail in 3-4 days. Use this code to claim your free bag (a $15.99 value) and get it shipped free as well.
PS. Facebook page is running a bit slow.
Thanks Hip 2 Save!