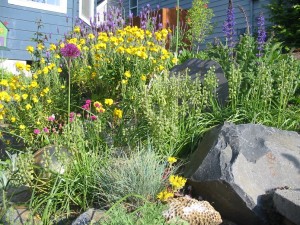 Some of you may not know this but I live in NH.  I have only been here for a year now and I have been living in our new-to-us home for only 9 months.  While our house is nice, it is majorly lacking in landscaping due to neglect from previous owners.
Now that the snow has melted and spring is here I am suddenly faced with making decisions of what to plant, where and how to do it for less. Yesterday I turned to you on Facebook and asked you for tips and ideas on how to make landscaping improvements without breaking the bank.
I now want to share the wise advice I received with the rest of you in case you missed this convo:
Be on the lookout for people who are "cleaning" out their gardens and ask if you can have a couple of them. Generally people are more than happy to give them to you! After all….it beautifies their neighborhood as well! :).  Try your local freecycle group to find people who are thinning out or getting rid of plants. – Julie and Christina
Many garden clubs and communities have swap events, too! If you have Ace Hardware near you, check out not just their sales, but also their rebates. You usually can submit them online, and it can save a lot on garden soil and other necessities. – Ellen
We ONLY plant perennials. We also share our plants. When they are ready to divide, we will do swaps– I give them half my plant and I'll take half their divided plant. Also, research the best plants for your zone and soil. We never water our plants because we planted wisely!!! Saves a TON of water! (and it's better for our planet!). -Jewcy
Start your plants from seeds. This takes patience, but will pay off with sturdier plants. Be sure to start early enough. It's too late now in most climates, but think ahead for next year. – Myrna
When I go to the grocery store I see handmade fliers of 'handymen' who are out of work looking for anything that pays. For all of your heavy duty landscaping, if you know what they need to do and how to do it, you could get some help for really cheap if you look. – Anna
We go to Lowes right before close, they throw away 1000 of plants a day.  If anyone has tried it, share with us how it went for you. – Amy
After you guys gave me such great advice, I signed up for my local Freecycle club to keep an eye out on any free plant offers.  I also contacted my local Garden Club and asked if they had someone to give free advice.  This is what I need the most, I don't know what to plant or where to make it look pretty.  Where else can I look for free gardening advice?