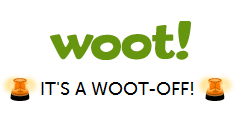 Have you ever shopped a
Woot-Off? Don't miss it – the deals will be amazing!
What is a Woot-Off?  In Woot-Off mode, a new product is launched immediately after the sellout of the previous deal. The number of Woot-Off items, sequence and quantity will not be announced. When Woot-Off mode is over, the orange lights will disappear and our normal schedule will resume.
While supplies last! $5 flat rate shipping!