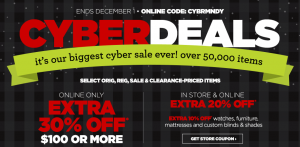 I've been browsing through the JCPenney Cyber Monday sale and spotted some pretty nice finds!
There are lots more great deasl, so make sure you check out the sale! You can also get an extra 10% to 30% off* your $100 order when you use the code CYBRMNDY at checkout! Shipping is free on orders of $49, or you can pick up $25+ order for free at your local store.
*
We'll be posting all of the great Cyber Monday deals we find in the Cyber Monday 2014 category.