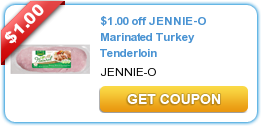 There are quite a few Jennie-O Turkey products printable coupons available today:

$1.00 off 2 JENNIE-O Turkey tray pack products
$1.00 off JENNIE-O Marinated Turkey Tenderloin
$0.55 off two JENNIE-O Turkey Franks products
$1.00 off 1 JENNIE-O Turkey Burgers
Are you a fan of turkey bacon?  It's not very tasty is it? kind of rubbery. I know the manufacturers ry to make it yummy but nothing like the real thing, I guess.