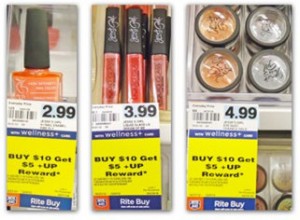 There is a  great double dip on Jessie Cosmetics this week!  You can only do it once and there are a few different scenarios you could do.  Here are the details:
There is a weekly and monthly rewards available:
Buy $12 in Jesse Cosmetics, Get $6 +Up (weekly, ends 12/9)
Buy $10, Get $5 +Up (monthly, ends 12/4!)
Here's a few scenarios you may want to try out. These would make great stocking stuffers or gift basket additions!
Buy (4) Jesse's Girl High Intensity Nail Color $2.99 each
Buy (1) Jesse's Girl Liquid Glass Lip Gloss $3.99 each
Buy One Get One 50% Off thru 12/9
Pay $12.96, get back one $6.00 +Up Reward and one $5.00 +Up Reward
That works out to be just $0.39 each when you buy all 5 items
Buy (6) Jesse's Girl High Intensity Nail Color $2.99 each
Buy One Get One 50% Off thru 12/9
Pay $13.46, get back one $6.00 +Up Reward and one $5.00 +Up Reward
That works out to be just $0.41 each when you buy 6 
Buy (2) Jesse's Girl Liquid Glass Lip Gloss $3.99 each
Buy (2) Jesse's Girl Sparkle Eye Dust $4.99 each
Buy One Get One 50% Off thru 12/9
Pay $13.47, get back one $6.00 +Up Reward and one $5.00 +Up Reward
That works out to be $0.62 each when you buy all 4 

 
Check out the other Rite Aid deals here
Thanks KCL