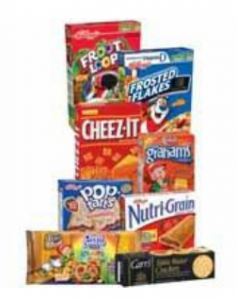 This week at Jewel you can buy 10 participating Kellogg's, Keebler and/or Sunshine products 2/$5, Get 2 free movie tickets and $10 Concession Cash by mail!  Catalina prints at check out.  Use Kellogg's coupons found here and Keebler coupons found here to sweeten the deal even further!
Here are more of the best deals at Jewel this week:
Buy a Mrs. Smith's Pie for $3.99, Get Breyers Ice Cream 1.5 qt Free
Buy an All Liquid Laundry Detergent, Get a Snuggle Fabric Softener Free with in-ad coupon
Use $1/1 All Liquid Laundry Detergent 9/26/2010 RP Insert (exp 11/15/2010)
Final price varies
Del Monte Fruit Smoothies 5/$5
Use $1/1 Del Monte Fruit Smoothies 8/15/10 RP (exp 11/15/2010)
FREE after coupon
Hershey's Milk 12 oz $1.19
Use $.35/1 Hershey's Milk
Pay $.84 each after coupon
McCain Potatoes BOGO for $3.99
Use $1/1 McCain Potatoes 10/24/10 SS Insert
Pay $1.99 for two after coupons
Nivea Kiss or Essential Lip Balm $1.49
Use $1/1 Nivea Lip Balm All You Magazine October 2010
Pay $.49 each after coupon
See more Jewel weekly deals at CouponingFor4!