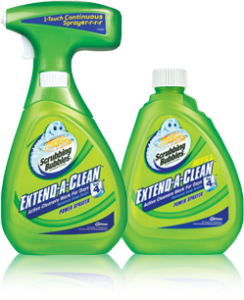 Here's an awesome moneymaker deal going on at Dominicks right now. There are two overlapping catalina offers, that make for an awesome deal:
Buy two Scrubbing Bubbles Extend a clean kits $6.99 each
Buy two Scrubbing Bubbles Extend a Clean refills $3.50 each
Use $5/1 Scrubbing Bubbles Power Sprayer Starter or from 4/11/2010 SS Insert (exp 6/6/2010)
Use B1G1 Free Scrubbing Bubbles Refill wyb Scrubbing Bubbles Power Sprayer
Pay 4.98 plus tax out of pocket and get back $ 12 in catalina coupons good on your next order back!
These are the catalinas you will get back: two $3 off catalinas for every kit, two $1 catalina for every refill and $4 catalina for buying four. Plus if you have not yet submitted for the $5/3 SC Johnson Rebate (exp 6/30/2010) (limit 3 rebates per household) you can do that as well.
Wow! what an awesome deal! does anyone know if this deal is also going on at the other Safeway stores like Genuardi's? If someone knows the ending date make sure to share in the comments.
Thanks Couponing for Four!