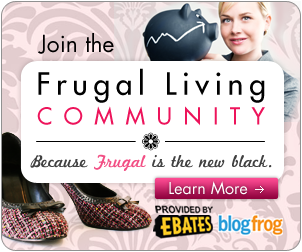 Today I am very excited to share with you the new Frugal Living Community powered by Blogfrog and Ebates.  The vision of the community is to bring like-minded financial savvy individuals like YOU together to share frugal living tips, tutorials, success stories, and support in a variety of categories from food to travel.
I am honored to have been tapped by Blogfrog as one of the Frugal Living Community Leaders.  There is ten of us and I am in great company. Together we will be answering your questions, leading the discussion and providing you with out money saving tips and expertise.
Getting Started is very easy and you do not even have to leave my blog because the community is hosted right here.  I am also loving that you can use your Facebook login to connect to the community. if you don't have a Facebook account or don't want to use it, you car create your own profile with an email address.  Plus guess what?  As part of the launch we are having lots of prizes to reward you for joining us and participating on the community.
So, come along and join us! We have some hot discussions going on:
DIY – What Do You Make Instead of Buy?
To find the community everyday, just click on "Community" at the very top right of this blog's homepage.