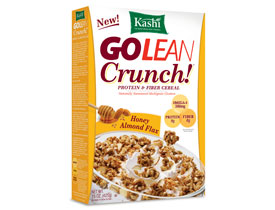 There's a new coupon for Kashi products available.  This time you can save $1.50 on a box of Kashi cereal or TLC bars with this printable coupon (IE or FF link). Both Kashi cereals and bars are on sale at CVS this week for $3.  But I know I have seen Kashi cereal on sale other times at other stores for 2/$5.  This past Friday I also price checked the price of the bars at Target (wanted to use the $1.50/1 soft bars coupon) and they were $2.58 each.  So, that's a cheaper price that $3 at CVS this week.
Here are other printable coupons available too:
$1 off Blue Bunny 1.75 quart Ice Cream (geez! so many ice cream coupons I think my waistline is not being thankful, lol!)
$1 off Pompeian Olive Oil.  Thanks Cutting Coupons in KC!
$1 off Pillsbury Simply Cookies refrigerated cookie doug.  Thanks Abundant Food Savings!
Happy Savings!