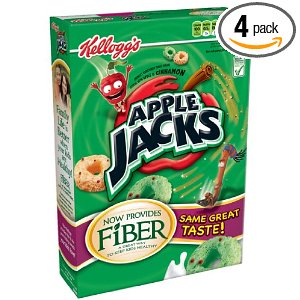 Amazon has quite a few deals on Kellogg's cereals.  Get 25% off Kelloggs cereals when you combine the subscribe and save discount (15%) with the 10% discount provided by the coupon code KELRTEC2 (use at checkout).  Here are some of the deals you can get but you can see all the cereal deals here.
Apple Jacks Cereal, 12.2-Ounce Boxes (Pack of 4)
$5.88 or $1.47 per box
Kellogg's Raisin Bran Cereal, 20-Ounce Boxes (Pack of 4)
$6.97 or $1.74 per box
Post Golden Crisp Cereal, 14.75-Ounce Boxes (Pack of 4)
$6.97 or $1.74 per box
Fruity Pebbles Cereal, 11-Ounce Boxes (Pack of 4)
$7.16 or $1.79 per box.  (coupon code not eligible)
Now, $1.47 a box may be more than you pay at the grocery store after you combine a catalina deal with coupons or double coupons.  But I don't know about you, but I have noticed less cereal deals at my grocery store lately.  I do think this is a good deal for those of you who don't have stores that double coupons, plus you get this shipped to you.
If after you receive your order you decide not to continue with scheduled deliveries, you can cancel your Amazon Subscriptions at any time by going to your Amazon account and clicking on "Manage Subscribe and Save Items".
Thanks, Swaggrabber!