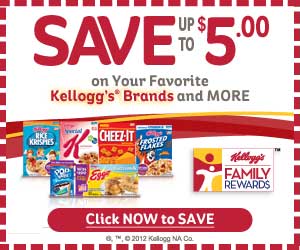 Get exclusive coupons and earn rewards from your favorite Kellogg's® brands. Add more free codes to your Kellogg's Family Rewards account!   This  program is a great way to get high value coupons and rewards. Why not get something back for the items you'll purchase regardless!   There is no cost to you and you'll get access to great coupons and points based rewards. All you need to do is purchase specially marked Kellogg's Family Rewards products enter the 16 digit code found inside the item to start accumulating your points.  Here is a new code for you to add:
 2013KFRBonusCode for 50 points
and here are other codes I have shared with you before and may still be available:
ENTERDELTASWEEPS for 50 points
XOXOXOXOXOXOXOXO for 25 points – possible 125 (varies by person)
FREEGROCERIESNOW for 50 points
KFRGIFTOFSAVINGS for 50 points
FOODNETMAG50PNTS for 50 points.
KFRNOWONFACEBOOK for 20 points.
ENTERDELTASWEEPS = 50 points
KFRDELTAENTERNOW = 50 points
KFRFAVPOPTARTS10 for 10 points.
FAVHOLIDAYCOOKIE for 25 points.
MARIECLAIRE50PTS for 50 points.
ERESUNGANADORHOY for 50 points.
GOODHOUSEMAG50PT for 50 points.
REDBOOKKFR50PNTS for 50 points.
KFRFREEGROCERIES for 50 points.
JOINKELLOGG2SAVE for 50 points.
HOWITWORKS20PNTSfor 20 points.
EZ25POINTSFORKFR for 25 points.
You can use your points to get high value coupons, books, magazine subscriptions and toys.  Be on the lookout for emails from Kellogg's offering you bonus codes for additional points!  Check out this great selection of Kelloggs printable coupons available from Kelloggs Family Rewards.  You need NO points to be able to print these coupons.
Thanks Rose Knows Coupons!