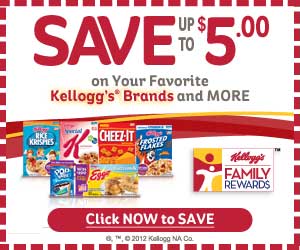 Get exclusive coupons and earn rewards from your favorite Kellogg's® brands. Add more free codes to your Kellogg's Family Rewards account!   This  program is a great way to get high value coupons and rewards. Why not get something back for the items you'll purchase regardless!   There is no cost to you and you'll get access to great coupons and points based rewards. All you need to do is purchase specially marked Kellogg's Family Rewards products enter the 16 digit code found inside the item to start accumulating your points.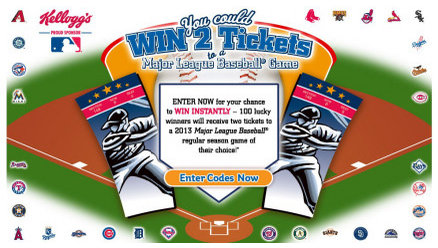 You can enter code KFRHOMERUNTICKET for 50 FREE points!  Simply sign up or log in to your account, enter the code and you will also see if you are an instant winner of 2 Major League Baseball tickets ($150 value).
Click on the "See if You're a Winner" button like the one above to see if you are an instant winner. Offer ends July 31, 2013.
You can use your points to get high value coupons, books, magazine subscriptions and toys.  Be on the lookout for emails from Kellogg's offering you bonus codes for additional points!  Check out this great selection of Kelloggs printable coupons available from Kelloggs Family Rewards.  You need NO points to be able to print these coupons.
Thanks Rose Knows Coupons