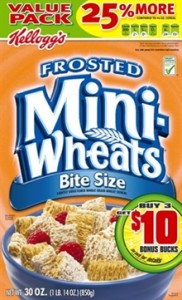 There's a new promotion from Kelloggs cereal: Buy any three specially marked Kelloggs cereals and get a bonus prize certificate for $10. These are the products that qualify for this promotion:
Kellogg's Frosted Flakes® cereal
Kellogg's® Froot Loops® cereal
Kellogg's® Frosted Mini-Wheats® Bite Size cereal
Kellogg's Raisin Bran® cereal
But only, specially marked packages have the promotional code that will allow you to claim this certificate. The specially marked packages look like the photo above. To claim your certificate, just go to this website and enter the codes from all three specially marked boxes of cereal you purchased (must be done all three at one time). You should receive your bonus certificate within six weeks and you will be able to use it at any of the stores listed here.
This promotion runs all the way through 9/30/2010 and there's no limit per household on the number of certificates you can claim. I am looking forward to taking advantage of this deal with all of the cereal deals sure to come between not and the end of this promotion.  Find all details about this promotion here.
Thanks Kaley!