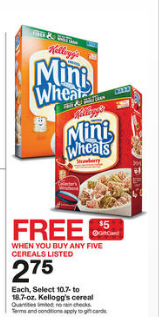 This week Target is offering a nice gift card promotion on select Kellogg's products: Buy five of them and get a $5 Target gift card.  You can grab cereal for as low as $1.25 per box.  Here's how:
Buy (5) Select Kelloggs Cereal 10.7 to 18.7 oz – $2.75 each
Raisin Bran, Cinnamon Apple Jacks, Frosted Mini Wheats and Corn Flakes
Use any of the high value and exclusive coupons from your Kellogg's® Rewards Program.
Use $1/2 Kellogg's Frosted Mini-Wheats Cereals
Use $1/2 Kellogg's Raisin Bran, Corn Flakes, Kellogg's All-Bran or Rice Krispies Cereals
Use $0.50/1 Kellogg's Apple Jacks Cereal, 8.7 oz+
Pay as low as $1.25 per box after coupons and gift card
Take a look at the other Target deals here.