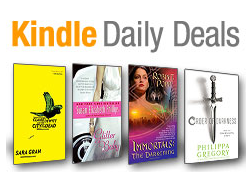 Every day Amazon offers a selection of Romance, Science Fiction, Fantasy and Teen titles at a discounted price.
Kindle Daily Deals – Each day they unveil new Kindle book deals for adults and young readers with prices usually ranging $1.99-$2.99.  Here are today's selections:
Kindle Monthly Deals – Each month they unveil a new collection of 100 Kindle books for $3.99 or less.
Here are some free kindle titles available for download at the moment:
Fiction
An Introduction to Pleasure: Mistress Matchmaker.
The Candle Star (Divided Decade Trilogy, 1).
Her Unbridled Cowboy (Harland County Series)
Non Fiction
Happily Ever After : Six Secrets to a Successful Marriage (Chapman Guides).
Killer Work from Home Jobs: 460 Jobs SUPER BOOK (Job Search Series).
Cookbooks
The 2011 Book Blogger's Cookbook (The Book Blogger's Cookbook).
Her Unbridled Cowboy (Harland County Series).

Remember that you do not need a Kindle e-reader to be able to read this book. You can read it on your PC, iPhone, iPad
, Blackberry and Android. Just download for free the appropriate application to be able to do that. Amazon changes prices without notice, so make sure to check that the kindle price it is still $0.00 before you start downloading this book.