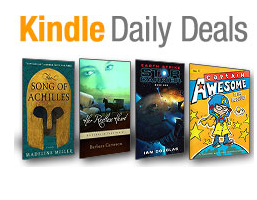 Every day Amazon offers a selection of Romance, Science Fiction, Fantasy and Teen titles at a discounted price.
Kindle Daily Deals – Each day they unveil new Kindle book deals for adults and young readers with prices usually ranging $1.99-$2.99.  Here are today's selections:
Kindle Monthly Deals – Each month they unveil a new collection of 100 Kindle books for $3.99 or less.
Also available right now is a nice selection of  20 Kindle books for just $2 each.  The selection includes literary fiction, mysteries, science fiction, thrillers, and more.  Offer valid through May 31, 2013.
Here are some free kindle titles available for download at the moment:
Fiction
Penelope ( A Madcap Regency Romance ).
Jackrabbit Junction Jitters (Jackrabbit Junction Humorous Mystery Series #2).
Orphan of the Olive Tree – Historical Romance Saga.
The Force is Middling in this One: And Other Ruminations from the Outskirts of the Empire.
Super Dark 1 (Super Dark Trilogy).
Out Of Darkness (The Starborn Saga).
Non Fiction
How to Organize Your Life (At Home).
7 Ways to Live, Not Merely Exist (Live a Life that Matters).
Unlocking Generational CODES: Understanding What Makes the Generations Tick and What Ticks Them OFF.
Cookbooks
Superfoods: 18 Superfoods To Help You Lose Weight, Boost Energy, Live Longer And Feel Younger, Including Nutritional Benefits and Cooking Recipes.
31 Tasty Sweet Potato Recipes: What You Didn't Know You Could Do With Sweet Potatoes: Including Gluten Free Recipes.
The Ultimate Green Smoothies Guide.

Remember that you do not need a Kindle e-reader to be able to read this book. You can read it on your PC, iPhone, iPad
, Blackberry and Android. Just download for free the appropriate application to be able to do that. Amazon changes prices without notice, so make sure to check that the kindle price it is still $0.00 before you start downloading this book.