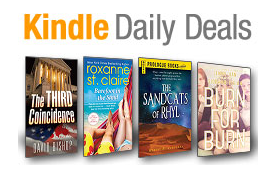 Every day Amazon offers a selection of Romance, Science Fiction, Fantasy and Teen titles at a discounted price.
Kindle Daily Deals – Each day they unveil new Kindle book deals for adults and young readers with prices usually ranging $1.99-$2.99.  Here are today's selections:
Kindle Monthly Deals – Each month they unveil a new collection of 100 Kindle books for $3.99 or less.
Here are some free kindle titles available for download at the moment:
Fiction
Wild Irish (Book 1 of the Weldon Brothers Series).
Cursed Kiss (Paranormal Romance).
The Pursuit of Lies, A Romantic Suspense Novel (Book #4, Paradise Valley Mysteries).
The Avenger (Bigler County Romantic Thrillers).
Deliver Me (The Holmes Brothers).
Non Fiction
Five Minutes on Mondays: Finding Unexpected Purpose, Peace, and Fulfillment at Work.
It's Only Natural: 200 natural cleaning product recipes to have a green, healthy and allergy free home and garden:.
Cookbooks
Economic Food Storage Strategies for Disaster Survival: Start Today and Have Enough Food Your Family Will Eat to Survive Any Disaster without Going Broke.
Best of Grain Free Meal Plans, Volume 1: A cook book for those following grain free diets.

Remember that you do not need a Kindle e-reader to be able to read this book. You can read it on your PC, iPhone, iPad
, Blackberry and Android. Just download for free the appropriate application to be able to do that. Amazon changes prices without notice, so make sure to check that the kindle price it is still $0.00 before you start downloading this book.