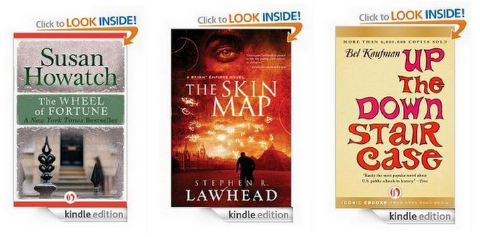 Every day Amazon offers a selection of Romance, Science Fiction, Fantasy and Teen titles at a discounted price.
Kindle Daily Deals – Each day they unveil new Kindle book deals for adults and young readers with prices usually ranging $1.99-$2.99.  Here are today's selections:
Kindle Monthly Deals – Each month they unveil a new collection of 100 Kindle books for $3.99 or less.
Here are some free kindle titles available for download at the moment:
Fiction
One Perfect Night (Contemporary Romance).
IMPOSTER: The Protectors Series – Book One.
H2O.
Jack with a Twist
Non Fiction
Granddad in the Back : A Guide to Adventurous Senior Living.
The Book of Maybe: Finding Hope and Possibility in Your Life.
Stonewall in the Valley: Thomas J. "Stonewall" Jackson's Shenandoah Valley Campaign, Spring 1862.
Children
Children's Book: Lucky The Forgetful Puppy (Colorful Children's Books Collection)
Cookbooks
Fast And Easy Coconut Flour Recipes: Easy Cooking For An Health, Natural Diet (20 Recipes Broken Into Breakfast, Snacks and Appetizers, Main Entrees, and Deserts For Every Occasion).
How to Meal Plan: Quick and Easy Ways to Save Time and Money (SpotLight Series).
The Paleo Chocolate Cookbook: 37 Healthy and Delicious Recipes That Are So Easy Even A Modern Caveman Can Do It.
Paleo Recipes For Busy People – The 30 Day Paleo Diet Challenge.
Paleo Crock Pot Soups and Stews: 50+ Recipes for Your Paleolithic Diet.
Betty Crocker 20 Best Summer Drink Recipes.

Remember that you do not need a Kindle e-reader to be able to read this book. You can read it on your PC, iPhone, iPad
, Blackberry and Android. Just download for free the appropriate application to be able to do that. Amazon changes prices without notice, so make sure to check that the kindle price it is still $0.00 before you start downloading this book.