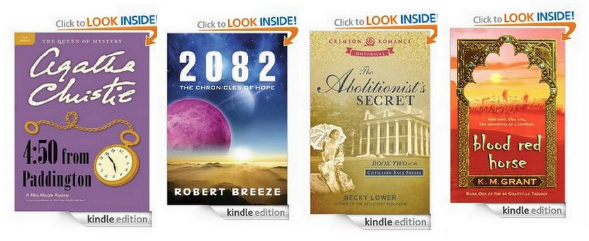 Every day Amazon offers a selection of Romance, Science Fiction, Fantasy and Teen titles at a discounted price.
Kindle Daily Deals – Each day they unveil new Kindle book deals for adults and young readers with prices usually ranging $1.99-$2.99.  Here are today's selections:
Kindle Monthly Deals – Each month they unveil a new collection of 100 Kindle books for $3.99 or less.
Here are some free kindle titles available for download at the moment:
Fiction
Homespun Bride (Love Inspired Historical).
Keep Me Ghosted (Sophie Rhodes Romantic Comedy #1).
Double Bind (Raymond Bridges #1).
Non Fiction
Hollywood Stories: a Book about Celebrities, Movie Stars, Gossip, Directors, Famous People, History, and more!.
A Child's Walk in the Wilderness: An 8-Year-Old Boy and His Father Take on the Appalachian Trail.
Children and Teen

Wicked Fate (The Wicked Trilogy).
Gwen Reaper (A Young Adult Paranormal Romance).
Thrall (The Daughters Of Lilith).
Cookbooks
Lemon: 50 Plus Recipes for Skin Care, Hair Care, Home and Laundry Cleaning along with Lemonade, Vegan, Curd, Chicken, Cookies, Cakes and Desserts.
155 Gluten Free Desserts: Delicious and simple, low-sugar, whole food cakes, cookies, pies, brownies, puddings, snacks and bars..
Paleo Slow Cooker Favorites For Meat Lovers.
Superfood Salad Recipes (Healthy Cookbook Series).

Remember that you do not need a Kindle e-reader to be able to read this book. You can read it on your PC, iPhone, iPad
, Blackberry and Android. Just download for free the appropriate application to be able to do that. Amazon changes prices without notice, so make sure to check that the kindle price it is still $0.00 before you start downloading this book.