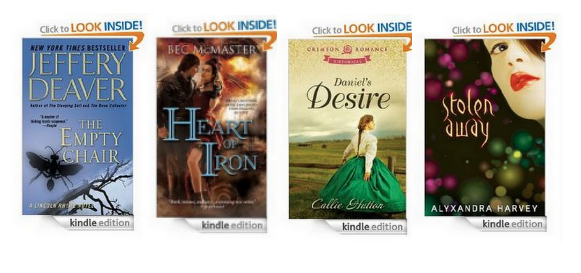 Every day Amazon offers a selection of Romance, Science Fiction, Fantasy and Teen titles at a discounted price.
Kindle Daily Deals – Each day they unveil new Kindle book deals for adults and young readers with prices usually ranging $1.99-$2.99.  Here are today's selections:
Kindle Monthly Deals – Each month they unveil a new collection of 100 Kindle books for $3.99 or less.
Here are some free kindle titles available for download at the moment:
Fiction
Paradise Valley Mysteries Boxed Set: Books 1 to 3 plus a BONUS Prequel Short Story.
The Prettiest Girl in the Land (The Traherns #3).
Running from Love: A Story for Runners and Lovers.
Non Fiction
Teaching Kids to Clean (Teach Your Children Basic Cleaning Skills).
Sugar Free: How to Be Sugar Free – The Unrefined Life.
Children and Teen

Times Tables: A Simply Brilliant Way to Learn Multiplication.
MYSTERY OF THE EGYPTIAN SCROLL (Secret Agent Zet Series #1).
Cookbooks
The Goodness of Ghee: The Ultimate Guide to Using Ghee in the Kitchen and Beyond.
Lemon: 50 Plus Recipes for Skin Care, Hair Care, Home and Laundry Cleaning along with Lemonade, Vegan, Curd, Chicken, Cookies, Cakes and Desserts.

Remember that you do not need a Kindle e-reader to be able to read this book. You can read it on your PC, iPhone, iPad
, Blackberry and Android. Just download for free the appropriate application to be able to do that. Amazon changes prices without notice, so make sure to check that the kindle price it is still $0.00 before you start downloading this book.