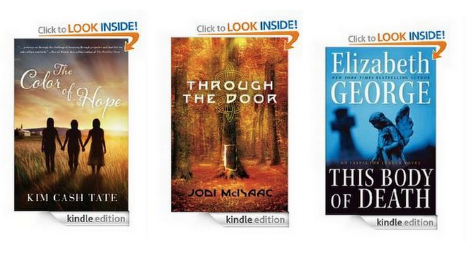 Every day Amazon offers a selection of Romance, Science Fiction, Fantasy and Teen titles at a discounted price.
Kindle Daily Deals – Each day they unveil new Kindle book deals for adults and young readers with prices usually ranging $1.99-$2.99.  Here are today's selections:
Kindle Monthly Deals – Each month they unveil a new collection of 100 Kindle books for $3.99 or less.
Here are some free kindle titles available for download at the moment:
Fiction
Shattered Promises (Shattered Promises, #1).
Round Robin – A Love Story of Epic Proportions.
S.A.V.E. Squad Book 1: Dog Daze.
Embers of Hope (Second Gift Series).
Non Fiction
It's Only Natural: 200 natural cleaning product recipes to have a green, healthy and allergy free home and garden:.
Cookbooks
Tasting Home: Coming of Age in the Kitchen.
Paleo Desserts-55 Decadent Recipes (Without The Guilt).
The BBQ & Outdoor Grilling Cookbook: 110 Recipes for Everything from Appetizers to Desserts.
The Tomato Cookbook: Tomato Recipes From Soup to Grilled – The Ultimate Resource for Cooking and Preserving a Bountiful Tomato Harvest (Hillbilly Housewife Cookbooks).

Remember that you do not need a Kindle e-reader to be able to read this book. You can read it on your PC, iPhone, iPad
, Blackberry and Android. Just download for free the appropriate application to be able to do that. Amazon changes prices without notice, so make sure to check that the kindle price it is still $0.00 before you start downloading this book.